BIO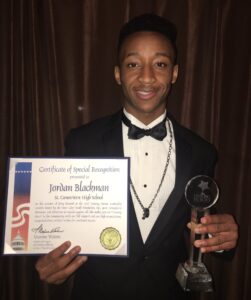 Jordan Jesaiah (Isaiah) Blackman grew up just south of Slauson on Harvard Boulevard, across the street from Harvard Park in South Central, Los Angeles, California.  The third of four young men; Jordan was a precocious child skilled at deciphering and creating his own Football plays at six years old.  He would often retrieve the Sunday paper to read the Sports section.  When he was nine, his family was displaced and homeless for over a year.  During that time Jordan learned to "IMPROVISE, ADAPT, and OVERCOME!"  Watching his mother take care of her four boys in the worst of circumstances inspired him to work hard and push through adversity in the same way that his mother did.  During that time, Jordan's mother taught him how to take the Metro Bus to and from Castle Heights Elementary School until she trusted him enough to do it by himself.  Jordan went on to graduate from Castle Heights Elementary School.  His mother found a home in Lake View Terrace when Jordan was ten years old, and his family has resided there ever since.
Jordan attended Robert Frost Middle School where he graduated with honors, setting the tone for how he would manage a rigorous schedule and curriculum at Saint Genevieve High School.  While at Saint Genevieve, Jordan played Varsity Football, remained on the honor roll, and graduated as the 2017 Class' Valedictorian with a 4.83 GPA.  During his Senior year, he supported and encouraged his classmates as their Student Body President and Team Captain for both the Football and Track & Field teams.  Jordan earned scholarship offers in Football from the University of San Diego, Columbia University, and The United States Military Academy at West Point.  Jordan chose the United States Military Academy.  Jordan's list of High School accomplishments can be seen below.
Jordan currently attends the United States Military Academy at West Point where he has had the honor of being on the Football Team, earning his Varsity Letter this season.  Jordan is an Engineering Psychology Major, who has earned Dean's List honors as a cadet for multiple semesters.  He will graduate and commission into the United States Army as an Armor Officer on May 22, 2021.  He will then advance to become a Military Intelligence Officer.  During his time at West Point he has served in various leadership roles and has earned a substantial amount of recognition for his work. (See Resume, Attached)
Jordan is a member of the Leadership Ethics And Diversity in STEM (LEADS) program at West Point.  Jordan has served on three community outreach workshop trips.  Two of those workshops were in Carson, California and hosted at Stephen White Middle School on behalf of the Los Angeles Unified School District.  As a part of that workshop, Jordan also had the honor of visiting 186th  Street Elementary School for a service project led by Principal, Mrs. Marcia Sidney-Reed.
Jordan is also a member of the Cultural Affairs Seminar at West Point and currently serves as a Company Commander where he is responsible for the training, discipline, and welfare of over 110 cadets.  Jordan is currently working on a few capstone projects.  Two of the three projects are being completed in partnership with the Army Research Lab and with Lockheed Martin, respectively.  Jordan will soon earn the honor of being a published author for his work as an undergraduate student. 
Jordan is in the process of creating a non-profit organization that will provide resources for education in Science Technology Engineering and Mathematics (STEM) for the youth in Los Angeles, California.  Jordan is a passionate leader who is committed to serving his community and inspiring others to be the best versions of themselves. 
*Valedictorian with a 4.83 GPA (Class of 2017)
*Student Body President (Class of 2017)
*Saint Genevieve High School's Youth Citizen Seminar Representative hosted by Pepperdine University (2016)
*Team Captain of Saint Genevieve High School's Football and Track & Field Teams (2016-2017
Awards:
*Unsung Heroes Leadership Award hosted by the Inner-City Youth Foundation and presented by Congresswoman Maxine Waters (2017)
*Scholar-Athlete Award from the San Fernando Valley Chapter of the National Football Foundation and College Hall of Fame (2017)
*Advanced Placement (AP) Scholar Award (2016)
*Advanced Placement (AP) Scholar with Distinction Award (2017)
*Catholic Education Foundation Scholar (2017)
*Catholic Education Foundation 30th Anniversary Keynote Speaker at the Rose Bowl (2017)
*All-State All-Academic Junior Honor Roll presented by the Cali-Hi Sports Gold Club (2016)
*Valiant Achievement Award for Outstanding Student-Athlete presented by Saint Genevieve High School: A National School of Character (2017)
*Athlete of the Year at Saint Genevieve High School (2016-2017)
*Division 12 All California Interscholastic Federation (CIF) Southern Section Football Offensive Utility Player Selection Presented by LA84 Foundation (Selected by the Football Coaches Association) (2016-2017)
*All Santa Fe League Track & Field Athlete (2017)
*Feature Story by the Los Angeles Times' Sports Journalist Eric Sondheimer (2017)
*Feature Story by the San Fernando Sun's Sports Journalist Mike Terry (2016)
*Plays & Grades California Classic All-Star Football Game's Academic Most Valuable Player Award (2017)
*Rated as a 2-Star Athlete by Rivals.com (2017)