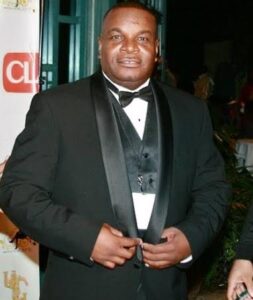 A man of profound faith, Jeffrey J. Coprich, Sr. is limitless in his vision and boundless in his infinite capacity to excel. Known for his generosity of spirit and willingness to share his time and talents with others, he is dedicated tothe advancement of his peers and future generations alike.
Following the 1992 Los Angeles civil unrest, Jeffrey Coprich, Sr. started mentoring local youth, encouraging them and helping them to achieve their highest potential. It was then that he founded the Los Angeles Inner City Mass Choir with only 12 members, who were resided in various housing projects throughout Watts. Coprich has continued to be an outstanding role model for youth around the community at- large, especially for fatherless youth.
On numerous occasions, he has opened up his home in order to spare young people from gang violence. Today, Jeffrey and his wife Danielle Coprich, continue to provide a safe haven for at-risk youth. They lead by example in showing others how to live a Godly lifestyle and work hard to ensure that each choir member fulfills their God-given purpose.Behind the scenes, Jeffrey has works with the Los Angeles Unified School District at 116th Street School / Watts to promote literacy in his community and to campaign on behalf of low-performing and underserved students . In addition to Co-Founder of the Unsung Heroes Leadership Foundation, Inc. he is responsible for the dedication of the 116th Street School Library in honor of his late daughter Essence along with former principals Pat Dawkins, Caroline McKie,Tyra Brook- Henderson and Congresswoman Maxine Waters.
He produces the Unsung Heroes Leadership Foundation Black Tie Gala and Awards & the Essence K. Coprich Community Book Drive just to name a few.
These events bring community leaders and celebrities together to celebrate change and youth empowerment. Jeffrey is determined, dedicated and faithful to our youth and their future.
Jeffrey has received many certificates and proclamations from our City, State and Congressional officials but not anything compared to the Forgiving For Living Inc. Plus Award and the M.I.A Awards.Jeffrey is the proud father of Jeffrey J.Coprich, Jr. a Graduate /University of California Berkeley Husband of Danielle "Queen" Coprich and one daughter Essence K. Coprich preceded in death at the age of seven in a tragic car accident.