Essence K. Coprich Library
BIO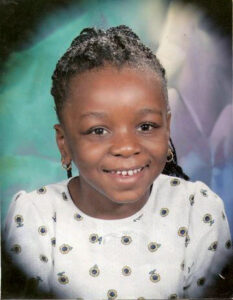 UNSUNG HEROES LEADERSHIP FOUNDATION  BOOK DRIVE for the ESSENCE K. COPRICH LIBRARY at 116th Street School August 2021-22
  Essence K. Coprich was a vibrant seven year old from Watts, LA, who loved reading and always had a smile and a hug ready for everyone who wanted to be a doctor. When she died in a tragic accident, her community rallied around her memory and renamed the library at her school in her honor. 
Today, the Coprich family uses her as an inspiration for putting books on shelves and opening up a world of reading for the children in the neighborhood.

 Watts is a 2.1 square mile neighborhood in Los Angeles, California. It has many challenges, including the lowest median income, the youngest population, and the highest percentage of single parents in Los Angeles County. But in spite of that, Watts residents more often see it as a place of strong community, where everyone knows everyone, and people work together to get things done. A child's love of reading is never something we should take for granted. 
Help a child discover a love for reading. The Unsung Heroes Leadership Foundation is helping fill the bookshelves at the Essence K. Coprich Library in Watts, CA. Tell or show us your favorite children's book using, and your book could end up on the shelf!
 The Essence K. Coprich Library at the 116th Street School in Watts, Los Angeles is helping children build self-confidence through literacy. Join the Unsung Heroes Leadership Foundation and see how a community is coming together to change lives through the power of purchasing a brand new book. 
The Coprich family does more than support the library. It has also started a book club that puts books in brand new back packs for kids  and encourages them to read together.
Together with his son, Jeffrey Coprich Sr. has been very involved in his daughter Essence's namesake library. He is an active member in the community, often volunteering with the kids and the LA Inner City Mass Choir a  local choir to help keep young people busy and out the streets. 
"We know that education is everything to our children's future… Michelle and I are only here because we were given a chance at an education." – Barack Obama
"Real education should consist of drawing the goodness and the best out of our own students. What better books can there be than the book of humanity?" – Cesar Chavez
We are asking everybody to go make a purchase of a children's book at Malik's 
Malik Books is an African American & Multicultural Bookstore located in the historic 71 year old Baldwin Hills Crenshaw Mall. 
This area of Los Angeles is considered a underserved community. I open Malik Books to serve a need in our community. No one should have to drive 10 miles to go to a bookstore. Our selection of books and gifts help to create a sense of pride, enlightenment and awareness. Everday customers thank us for serving the community. Malik Books gives voice to a voiceless people.